A2BAY 5.0 (St. Petersburg, FL)
Saturday, March 29, 2014 from 8:00 PM to 1:00 AM
Event Information
A2BAY comes back to the Tampa Bay area with a few new artists on the bill and as an official qualifier for Pro-Am 2014, so we're calling out all the 3-on-3 crews for a small competition at the show. This show WILL be packed. We're even offering FREE ENTRY to those who pre-register and bring in their printed ticket right here from the website.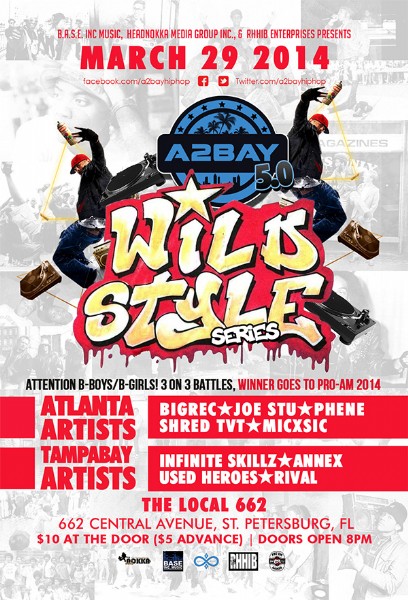 REGISTER FOR FREE ENTRY TODAY!
Price will be $5 at the door, so SAVE YOUR MONEY for the bar and purchase merchandise.
A huge addition to our show is the 3-on-3 B-Boy/B-Girl battle that will be held as a pre-qualifier for the
Pro-Am Games in June 2014 and will be provided sponsored gear from our A2BAY affiiliate.

We are only taking on a selected amount of slots for this, so please be sure to register today and not miss out.
All other B-Boys and B-Girls are welome to attend and throw down, as we are dedicating this series
to the B-Boys and B-Girls who have enriched our culture with their energy....

Thus we dub this series the WILD STYLE series!!!
Event Location
Local 662 • 662 Central Avenue • Saint Petersburg, FL 33701 • US
Contact Information
Contact: A2BAY Management
Phone: 813-495-8292
E-mail: